Large spindle-shaped leaves
Description
The genus Aspidistra belongs to 8 species of perennial evergreen resistant rhizomatous plants, of which only one is usually grown - aspidistra high (Aspidistra elatior). It is a stemless species up to 50-60 cm tall, with elongated elliptical dark green leathery leaves with long petioles (50 cm) and poorly decorative single yellow or dark brown flowers. Indoor plants rarely bloom. The variety 'Mottled' has longer leaves in small spots.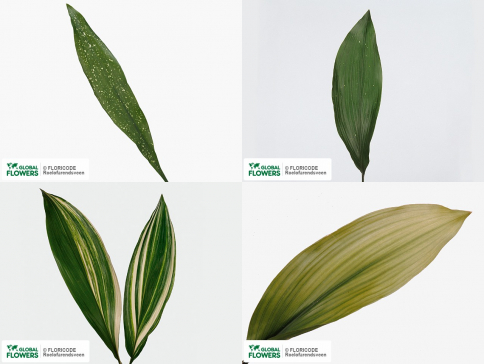 Location: diffused light at home, partial shade in the open air
Temperature: resistant to temperature fluctuations
Watering: spring-summer regular
Flowering time: in summer
Transplanting: in spring once every 2 years
Appearance maintenance: wipe the leaves from dust
Cultivation
Aspidistra is grown in pots and flower pots, sometimes very large (with a diameter of 30-40 cm or more) at home or outdoors on balconies and terraces. It is used for landscaping various rooms, even heavily shaded ones. In the open air, aspidistra is often watered and sprayed. Plants are removed to the house with the onset of the first cold weather, because they are afraid of frost.
Aspidistra easily tolerates various atmospheric pollutants associated with smoke and gas, withstands the lack of light and humidity, which at home is the main enemy of almost all decorative-leaved species.
The soil mixture for cultivation is made up of turf and humus earth with the addition of a small amount of sand (aspidistra tolerates heavier soil) and 30 g of complex fertilizer per bucket. In spring and summer, once every 20-30 days, a mineral complex fertilizer is added to the water for irrigation in the amount of 20 g per bucket.
Location
Aspidistra grows well in both heavily shaded and well-lit areas.
Temperature
This plant is resistant to both high and low (although not too high) temperatures, but the foliage can be damaged.
Watering
They are watered regularly in spring and summer, and less frequently in winter. Aspidistra tolerates both a lack and a temporary excess of water, but not stagnation of moisture.
Transplanting
Transplanted in the spring once every 2-3 years. Adult specimens are recommended not to disturb, but only to replace the surface layer of the earth with a new one.
Appearance maintenance
The leaves are cleaned with a cloth, treated with a lustrating solution and yellowed and damaged ones are removed.
Reproduction
Propagate plants by dividing the rhizomes during transplanting at the end of winter. The resulting parts are planted in cups filled with the same soil that was recommended for cultivation, and directly in the cups can be planted in containers on balconies and terraces.
Diseases and pests
Dangerous pests are worms; their presence is given out by brownish or white shields on leaves and stems, which causes the plants to weaken. Scale insects are removed with a brush and produce processing anticoccidial drugs, the Fungi of the genus Septoria (Septoria) cause the appearance of disfiguring spots on the leaves of plants. They are treated with fungicides. Chlorosis (yellowing of leaves), as a rule, is a consequence of excessive light. When signs of chlorosis appear, rearrange the pot or, if this is not possible, shield the plant from the light with a screen.
Acquisition
Aspidistra, or a friendly family, is easy to find in gardening centers and flower nurseries. Buy plants in the spring, choosing compact and well-formed specimens.