Description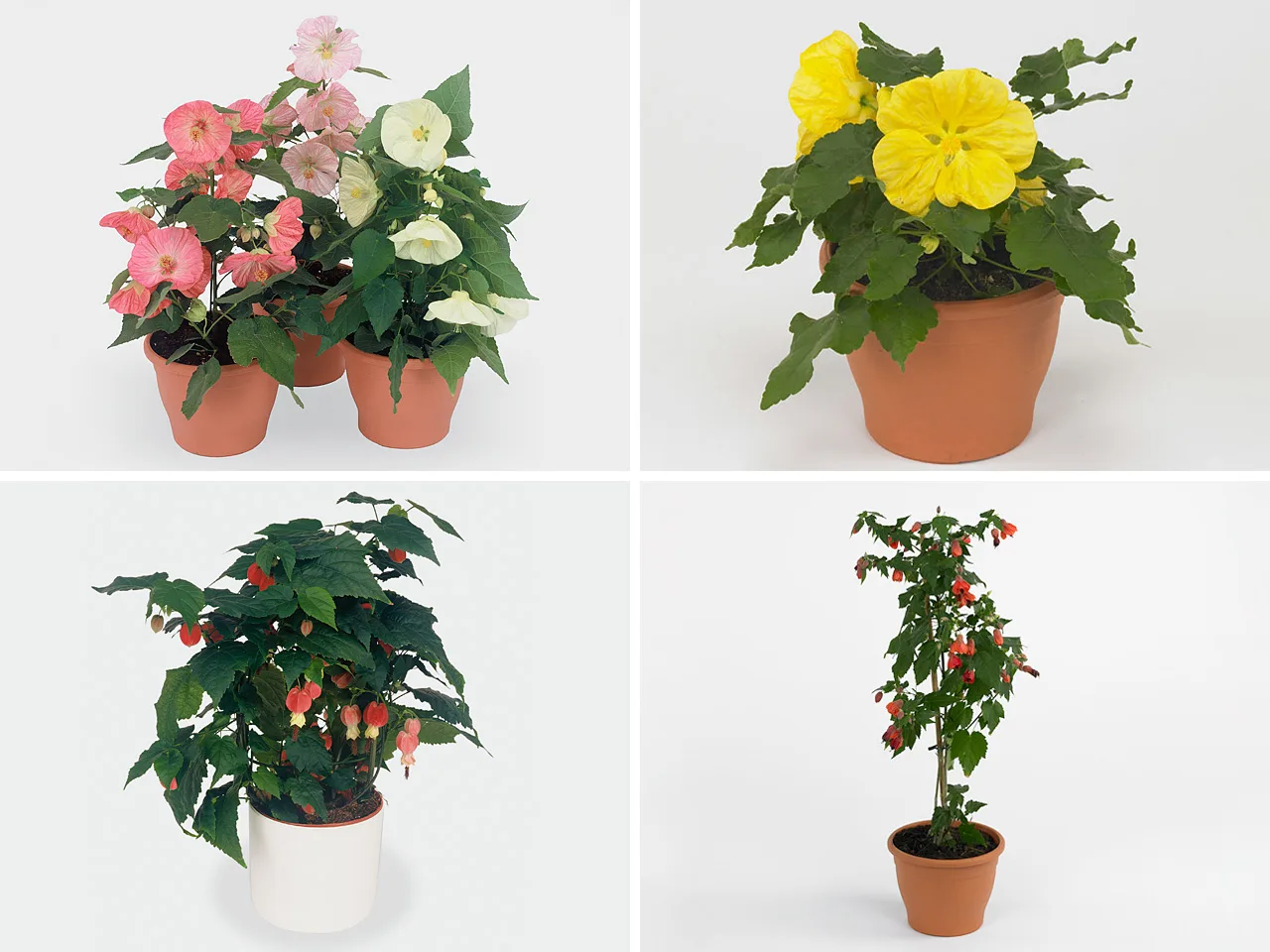 Family:

Malvaceae.

Homeland:

South America, Far East.
Gender Abutilon (Abutilon) unites more than 100 species, which are divided into tender (some of them can be kept exclusively in greenhouse conditions) and relatively stable. This plant is very decorative due to drooping axillary single or collected in a brush bell - shaped flowers. Mainly hybrids are grown. Abutilon Darvina (Abutilon darvinii) is a shrub up to 2 m high with three-lobed leaves and orangish flowers with red veins, up to 5 cm in diameter; flowers are collected together in 3; they bloom in summer. Many hybrids were obtained from this species, including abutilon hybridum (A. x hybridum), by crossing with abutilon striatum (A. striatum). Abutilon hybrid is a branched shrub that grows up to 2 m high; the flowers are colored in yellow, orange and red shades with various transitions; the flowers are up to 4 cm long and last for a long time (from spring to autumn). From it came various hybrid forms with white, yellow and red flowers, among them there are specimens with variegated white-edged foliage.
Abutilon megapotamica (A. megapotamicum) is a shrub that grows up to 2-2. 5 m in height and width. Bending branches from spring to mid-October are covered with numerous drooping flowers with red sepals and yellow petals. There is a hybrid form with a yellow pattern on the leaves.
Abutilon oscheni, with its blue-purple flowers, is one of the most cold-tolerant species of this genus. But it should also be kept indoors in harsh winters.
Abutilon striatum (A. striatum) is a shrub up to 2.5 m high. From spring to autumn, it blooms red-orange flowers with dark veins; its hybrids have small leaves with a yellow pattern.
Grape-leaved abutilon (A. vitifolium) grows up to 5 m in height. Its leaves are similar to grapes, and blue flowers in axillary racemes are kept from may until the first cold weather.
The variety 'White' is characterized by white flowers.
⁠
Cultivation
If your climate is, abutilon can even grow in the open ground. When grown in pots, the plant, of course, reaches a smaller size than when cultivated in the air, but it is impossible to grow it in any other way in a cold climate.
At the bottom of the pot for drainage, put a layer of pebbles, then pour peat soil with the addition of sand or a mixture of sand and peat equally. When transplanting, the main mineral fertilizer is applied in the amount of 30-40 g per bucket of water. Once every 2 weeks, liquid fertilizer is added to the water for irrigation.
Care
Remove withered flowers and dried leaves from time to time. In spring, the shoots are shortened and the cold-damaged parts of the plant are cut out.
Watering
During the active growing season, they are watered often, in winter-much less often.
Transplanting
Every year in March and April, the plants are transplanted into a new, more spacious pot, filling it with the same soil that is used for growing abutilon.
Reproduction
Different species are propagated by sowing seeds in spring, but this method is not used for hybrid forms and varieties, since the properties of the original plants are not inherited.In such cases, abutilon is propagated only by semi-woody cuttings, placing them in a closed place in the spring and maintaining the temperature at 20-21 °C.
Location
Abutilon prefer sun, but tolerate partial shade.
Temperature
For the above species, the temperature should usually be 10-15 °C in winter and not too high (15-22 °C) in summer. A little warmer should be kept abutilon megapulse.
Diseases and pests
Worms damage the leaves by sucking the SAP out of them, after which the leaves dry out. Formed by honeydew scale insects may appear black. Get rid of pests by using a special (anticoccidial) drugs.
Acquisition
Hybrids of abutilon can be found in specialized horticultural centers and nurseries. It is best to buy them in early spring, in this case you will enjoy the flowering and beauty of the plants as much as possible. Carefully check the state of " health " of the plants.
Trade offers and prices
from 12 ₽ to 13 ₽

Абутилон "Органза" смесь окрасок DH, 10 шт.

В наличии

, available in 22 cities

Leroy Merlin, Seeds
Care summary
Requirements and characteristics of the Abutilon plant that you need to remember.
| | |
| --- | --- |
| Cultivation | medium difficulty |
| Watering | frequent during the growing season |
| Transplanting | in the spring |
| Appearance maintenance | shorten shoots |
| Location | in the open sun or partial shade |
| Temperature | optimal 15-22 °C |
| Flowering time | May to October |
| Height | from 2 to 5 m |
Photos of varieties and species
Literature
List of sources, entry in the process of writing this article.
Abutilon //

Great Soviet Encyclopedia

. — M.: Soviet Encyclopedia, 1969-1978. — 630000 copies.
Ilyina E. Ya., Sterligova E. I.

Indoor plants and their use in the interior

. — Sverdlovsk: Ural University, 1991 — 208 s — 130000 copies. — ISBN

9785752502118

Turdiev S. Yu., Vecherko L. I.

Flowers in our life

. — Alma-Ata: Kainar, 1986. — 217 s — 50000 copies.
Chub V. V., Lezina K. D.

Complete encyclopedia of indoor plants

. — M.: Eksmo, 2003. — 416 s — 7000 copies. — ISBN

9785040060771

.
Abutilon //

Indoor and garden plants

. — M.: Premiere, 2005. — 1274 s — 300,000 copies. — ISSN

1729-1828

.
Golovkin B. N.

What do plant names say

. — M.: Kolos, 1992. — 192 s — 70000 copies. — ISBN

9785100025054

.
Golovkin B. N.

1000 amazing facts from the life of plants

. — M.: AST; Astrel, 2001. — 224 s — 10000 copies. — ISBN

9785170105342

, ISBN

9785271030529

.