Description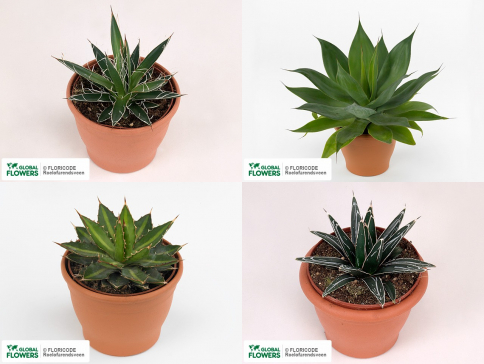 Family:

Asparagaceae.

Homeland:

Mexico.
The genus agave includes more than 300 leafy succulents with large erect inflorescences - spikes or panicles. Fleshy greenish-white or greenish-red flowers have a tubular or bell-shaped shape. The leaves are collected in basal rosettes at the base of the stem-short or rather long (up to 3 m). Often there are spines along the edge and at the ends of the leaves.
The most famous agave is American (Agave americana) - up to 3 m in height and diameter-and its forms and varieties 'Edged', 'Striped', 'Mid-list ' (the latter has a white or yellow stripe in the Central part of the sheet). There are also a number of fairly common types.
Agave refined (A. attenuate) - a plant up to 1.5 m tall with glaucous leaves and yellow inflorescences.
The height of the terrifying agave (A. ferox) is 1.5 m; large spines are located at the ends of the leaves. Agave filamentous (A. filifera) - usually 50-60 cm high with green and white striped leaves.
Queen Victoria agave (A. victoriae-reginae) has a very slow growth, it reaches only 15-20 cm in height; there is a white stripe along the edge of the oblong-triangular leaf.
Agave protruding (A. stricta), 40-50 cm high, has thin and compact leaves of dark green color with prickly ends.
Cultivation
Resistant to drought and heat, agaves are suitable for gardens in hot climates, especially the 'Edged' variety of American agave. They can be grown in pots on balconies and terraces, placed in a well-lit place. But for the winter, as a rule, plants are removed in a room protected from the cold and illuminated. For agaves, growing in the open ground, 1-2 times during the growing season, fertilize with full mineral fertilizer at the rate of 20-30 g per bucket of water or dry top dressing of the plant at the rate of 20-30 g per 1 m2.
Care
They do not require almost any care, except for the removal of inflorescences after flowering.
Watering
Water moderately, and only during the active growing season and in summer; watering is especially important if agaves are grown in pots. Adult plants of open ground cannot be watered at all.
Transplanting
Potted specimens are transplanted into new containers, depending on the development of plants, once every 1-2 years in the spring. The soil should be light, sandy, and well-drained (50% humus, 20% peat, and 30% coarse sand). At the bottom of the pot, it is advisable to put a layer of clay shards or pebbles to facilitate the rapid removal of excess water, which provokes root rot.
Reproduction
Seed propagation is carried out in the spring (if you have chosen this method of propagation, do not remove the inflorescences, but leave them on the plant for the seeds to Mature). From seed, plants will develop slowly. A more common method is to cut off the formed shoots in the spring. Then, for several days, the cut is allowed to dry out, after which new specimens are planted to take root in light soil - the same as used when transplanting into a new pot (described above).
Location
Since all agaves come from very hot desert areas, they naturally prefer the open sun.
Temperature
The minimum winter temperature, depending on the species, is 0-10 °C, the optimal summer temperature range is 18-28 °C. However, these plants safely tolerate higher temperatures.
Diseases and pests
Brown streaks and black spots on the leaves indicate the presence of the fungus Coniothyrium concentricum, in which case the plants are treated with fungicides based on copper or dithiocarbamates. Worms that settle on the leaves and stems cause the plants to dry out. From they are disposed of by applying relevant anticoccidial drugs.
Acquisition
Agaves are quite easy to find in horticultural centers and flower nurseries. Choose well-formed plants with healthy whole leaves. The best time to shop is in spring.
Care summary
Requirements and characteristics of the Agave plant that you need to remember.
| | |
| --- | --- |
| Cultivation | easy in warm climates |
| Watering | potted plants moderate |
| Transplanting | in the spring |
| Appearance maintenance | remove dried inflorescences |
| Location | heavily lit |
| Temperature | minimum 0-10 °C, optimal 18-28 °C |
| Flowering time | summer, autumn |
| Height | from 10-20 cm to 3 m |
Photos of varieties and species
Literature
List of sources, entry in the process of writing this article.
Agave //

Great Soviet Encyclopedia

. — M.: Soviet Encyclopedia, 1969-1978. — 630000 copies.
Ilyina E. Ya., Sterligova E. I.

Indoor plants and their use in the interior

. — Sverdlovsk: Ural University, 1991 — 208 s — 130000 copies. — ISBN

9785752502118

Turdiev S. Yu., Vecherko L. I.

Flowers in our life

. — Alma-Ata: Kainar, 1986. — 217 s — 50000 copies.
Chub V. V., Lezina K. D.

Complete encyclopedia of indoor plants

. — M.: Eksmo, 2003. — 416 s — 7000 copies. — ISBN

9785040060771

.
Agave //

Indoor and garden plants

. — M.: Premiere, 2005. — 1274 s — 300,000 copies. — ISSN

1729-1828

.
Golovkin B. N.

What do plant names say

. — M.: Kolos, 1992. — 192 s — 70000 copies. — ISBN

9785100025054

.
Golovkin B. N.

1000 amazing facts from the life of plants

. — M.: AST; Astrel, 2001. — 224 s — 10000 copies. — ISBN

9785170105342

, ISBN

9785271030529

.