Description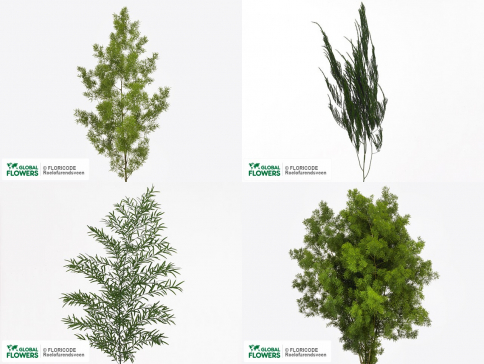 Family:

Asparagaceae.

Homeland:

South Africa.
The extensive genus Asparagus includes over 200 species. The most popular is asparagus officinalis, cultivated as a garden and medicinal plant (its young shoots are eaten), as well as species grown for decorative purposes in the house or on the terrace and characterized by leaf - like thin branches of cladodes. The leaves of these species degenerated into small membranous scales covering cladode. Complex leaves of some species are used for cutting for flower arrangements. Other types are also suitable for hanging baskets. There are also climbing plants among them. The rhizomes of many asparagus- trees are perfectly adapted to withstand both cold and drought. Very small star-shaped flowers have a greenish-white color and a faint aroma. Fruits are much more decorative: these are bright red berries.
The most common asparagus Sprenger (A. sprengeri) is a very branchy plant with characteristic curved shoots. Light green cladode covered with small leaves, looks like a hook-like spines. In summer, nondescript but fragrant white flowers bloom. In late summer, clusters of bright red berries appear.
Asparagus Meyer (A. meyeri) is characterized by decorative very spectacular spindle-shaped shoots.
The classic pinnate asparagus (A. plumosus) has long erect or climbing shoots that grow up to 3 m in length. Branches with thin dark green cladodes are arranged horizontally. Small white flowers have a faint aroma. Young plants are suitable for growing in a pot. Very good for hanging baskets, especially developed formed specimens. Sickle-shaped asparagus (A. falcatus) can grow up to 1.5 m high. Strong lignified stems are very densely covered with lanceolate cladodes, and the leaves have degenerated into pointed spines. The fruits are brown berries. Cut branches of this species are often used for decorative purposes. Another species used for decorative purposes is asparagus umbellatus (A. umbellatus) with characteristic aerial shoots and clumps of cladodes. From a distance, this plant resembles a coniferous; its shoots can be used for cutting.
Cultivation
Asparagus is a fairly easy-to-grow crop that develops quickly if the temperature conditions are favorable, as well as humidity and location. Usually they are cultivated at home, but in the warm season they are kept even on the terrace or balcony, but only in partial shade; in autumn they should be removed indoors. Does not tolerate drafts. In the temperate regions of Europe, asparagus can also be grown outdoors in a semi-shaded corner. In summer, liquid fertilizer is added to the water for irrigation periodically (once a week) – 5 g per bucket of water.
Care
Water spraying is sufficient to remove dust. Do not use lustrating solution.
Watering
In summer, asparagus trees are watered abundantly 2-3 times a week. They like high humidity, which is achieved by frequent spraying with water or pots are placed in pallets with pebbles or expanded clay. In winter, it is sufficient to keep the soil slightly moist.
Transplanting
This operation should be performed in the spring only when the roots begin to literally push the plant out of the pot, and at the same time use soil with a pH of 5.5-7.
Reproduction
As a rule, propagation is carried out by seeds in March-April using good soil, in which coarse sand is added to improve drainage. It is necessary to maintain moderate humidity, and the temperature - at a level of about 20 °C, ventilate the room. Seedlings dive when the seedlings grow to about 7-8 cm, and in July they are transplanted into 8-10-cm pots. Then in the fall or next spring they are transplanted again completely. Another method of reproduction is to divide the rhizomes of adult plants: in March-April, they are removed from the soil, divided, and then planted again.
Location
At home, asparagus is placed in a moderately lit place. Plants should not be placed in the open sun.
Temperature
Asparagus plants do not like dry hot air, so they should be kept away from Central heating batteries. In winter, the minimum temperature that they can tolerate is 7-8 °C; in summer, it should not exceed 25 °C. Optimal Temperature Is 15-18 °C.
Diseases and pests
Mites provoke the appearance of light spots on the leaves; these pests are eliminated with the help of acaricides and maintaining high humidity around the plant. From worms (mostly only wax), settling in colonies on branches, get rid of treatment soaked in alcohol with a cotton swab or cloth or an appropriate anticoccidial drug. On the paddy (sugary liquid) of worms can settle rabble, disfiguring plants and leading to their death.
The lack of nitrogen and iron is manifested in yellowing and slow growth of the plant. It is necessary to periodically feed the plants.
Acquisition
Almost all the main varieties of asparagus are easily found in the best gardening centers. It is recommended to choose well-formed plants with dense, shiny green foliage without yellowing or other obvious defects.
Trade offers and prices
from 18 ₽ to 20 ₽

Семена Аспарагус густоцветковый (Шпренгера)

В наличии

, available in 6 cities

Leroy Merlin, Seeds
Care summary
Requirements and characteristics of the Asparagus plant that you need to remember.
| | |
| --- | --- |
| Cultivation | simple |
| Watering | frequent in summer, minimal in winter |
| Transplanting | in spring (only if absolutely necessary) |
| Appearance maintenance | without lustrating solution |
| Location | partial shade |
| Temperature | optimal 15-18 °C |
| Flowering time | June-July |
| Height | depending on the species and variety |
Photos of varieties and species
Literature
List of sources, entry in the process of writing this article.
Asparagus //

Great Soviet Encyclopedia

. — M.: Soviet Encyclopedia, 1969-1978. — 630000 copies.
Ilyina E. Ya., Sterligova E. I.

Indoor plants and their use in the interior

. — Sverdlovsk: Ural University, 1991 — 208 s — 130000 copies. — ISBN

9785752502118

Turdiev S. Yu., Vecherko L. I.

Flowers in our life

. — Alma-Ata: Kainar, 1986. — 217 s — 50000 copies.
Chub V. V., Lezina K. D.

Complete encyclopedia of indoor plants

. — M.: Eksmo, 2003. — 416 s — 7000 copies. — ISBN

9785040060771

.
Asparagus //

Indoor and garden plants

. — M.: Premiere, 2005. — 1274 s — 300,000 copies. — ISSN

1729-1828

.
Golovkin B. N.

What do plant names say

. — M.: Kolos, 1992. — 192 s — 70000 copies. — ISBN

9785100025054

.
Golovkin B. N.

1000 amazing facts from the life of plants

. — M.: AST; Astrel, 2001. — 224 s — 10000 copies. — ISBN

9785170105342

, ISBN

9785271030529

.