Description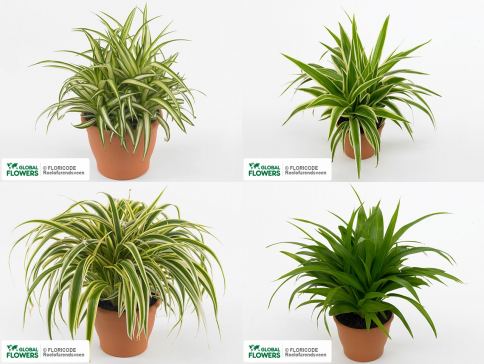 Latin name:

Chlorophytum

.

Family:

Asparagaceae.

Homeland:

South Africa.
The genus Chlorophytum includes about 220 species of perennial evergreen rhizomatous plants, often with large aerial roots, among which two species are cultivated - chlorophytum crested (Chlorophytum comosum) and chlorophytum winged (Ch. elatum). Mostly variegated varieties are grown. The leaves are linear grooved, brittle, often with white longitudinal stripes; in the botanical species, the leaves are evenly colored green. Peduncles are thin, very long, and shoot-bearing (at the ends they form bundles-rosettes of small leaves that are used for reproduction; they easily root on their own). The flowers are white, small, with six narrow elongated petals, collected in a brush, bloom among bundles of leaves.
In culture, garden forms of Ch. elatum are most often grown. Among them, 'Striped' with a central white stripe on the leaves may be the most common; 'Painted' has a yellow stripe, and the leaves of chlorophytum 'Mottled' are white-edged.
Cultivation
Chlorophytum is grown at home, in a pot, using a mixture of leaf, humus earth and sand, which contributes to better drainage. A complex fertilizer is applied to the soil at the rate of 20 g per bucket of soil. Then, every week, a water-soluble fertilizer in the amount of 0.5-1 g per bucket is added to the water for irrigation. It is used as an ampel, in groups and compositions.
Care
It is recommended to periodically wipe the leaves with a damp cloth, remove dry or damaged ones.
Watering
In spring and summer, watering should be quite plentiful and frequent, so that the land always remains moist, but water stagnation should not be allowed. In winter, watering is noticeably reduced.
Transplanting
Transplanted annually in the spring (only if required) in larger pots, using the same soil as recommended for cultivation.
Reproduction
The simplest method is to separate medium-sized young rosettes of peduncles and root them in the ground or water, then transplant them completely. This operation can be performed in three ways. The first method is to put a pot filled with high-quality and well-drained peat-sanded soil next to the pot with the mother plant, and bury the base of the outlet in it. The socket will be separated only after the roots appear.
Just as successfully, you can propagate in another way: at any time of the year, take a well-formed rosette (which already has small roots) and plant it to take root in a peat-purulent or other pot. The third method, as simple as the first two, is to submerge the lower part of the rosette separated from the peduncle in water and keep it there until the roots form.
Location
Plants should be placed so that they get diffused light, and not direct sunlight. If there is not enough light, the color will be less bright, and the leaves will lose their elasticity.
Temperature
The air temperature when growing chlorophytums should not fall below 8 °C, although for short periods in almost completely dried soil, plants can withstand a lower temperature. The optimal winter temperature is 12-14 °C.
Diseases and pests
If the plant is watered too much, it can rot. Avoid stagnating water and stop watering immediately. If there is a lack of humidity, a spider mite can appear, which causes yellowing of the leaves and the appearance of spots on them. In this case, the air humidity is increased and treated with acaricides.
Acquisition
Choose not too elongated and without visible damage to the leaves of the plant.
Trade offers and prices
555 ₽

Хлорофитум ампельный ø21 h30 см

В наличии

, available in 6 cities

Leroy Merlin, Seeds

from 355 ₽ to 384 ₽

Хлорофитум Comosum Variegat hang 12х40 см

В наличии

, available in 31 cities

Leroy Merlin, Indoor plants
Care summary
Requirements and characteristics of the Chlorophytum plant that you need to remember.
| | |
| --- | --- |
| Cultivation | simple |
| Watering | frequent in spring and summer |
| Transplanting | in spring |
| Appearance maintenance | clean the leaves from dust |
| Location | ambient light |
| Temperature | minimum 8 °C |
| Flowering time | more often in summer |
| Height | 20-30 cm |
Photos of varieties and species
Literature
List of sources, entry in the process of writing this article.
Chlorophytum //

Great Soviet Encyclopedia

. — M.: Soviet Encyclopedia, 1969-1978. — 630000 copies.
Ilyina E. Ya., Sterligova E. I.

Indoor plants and their use in the interior

. — Sverdlovsk: Ural University, 1991 — 208 s — 130000 copies. — ISBN

9785752502118

Turdiev S. Yu., Vecherko L. I.

Flowers in our life

. — Alma-Ata: Kainar, 1986. — 217 s — 50000 copies.
Chub V. V., Lezina K. D.

Complete encyclopedia of indoor plants

. — M.: Eksmo, 2003. — 416 s — 7000 copies. — ISBN

9785040060771

.
Chlorophytum //

Indoor and garden plants

. — M.: Premiere, 2005. — 1274 s — 300,000 copies. — ISSN

1729-1828

.
Golovkin B. N.

What do plant names say

. — M.: Kolos, 1992. — 192 s — 70000 copies. — ISBN

9785100025054

.
Golovkin B. N.

1000 amazing facts from the life of plants

. — M.: AST; Astrel, 2001. — 224 s — 10000 copies. — ISBN

9785170105342

, ISBN

9785271030529

.