Description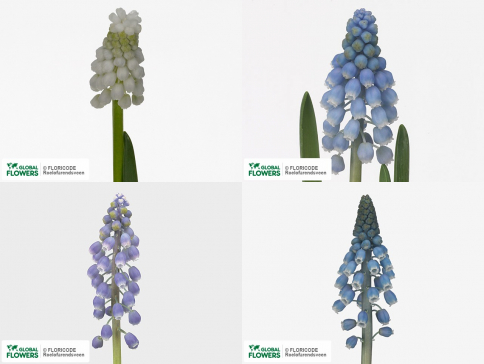 Family:

Asparagaceae.

Homeland:

Southern Europe, Western Asia.

Alternative name:

Grape hyacinth

.
The genus Muscari contains 60 bulbous resistant perennial plant species. These miniature plants have numerous ground-level linear leaves; small fragrant flowers are collected in compact multi-flowered racemes. Muscari is also called mouse hyacinth, or viper onion.
Muscari armeniacum is a plant up to 20 cm tall, with bluish-blue tubular flowers.
Muscari bunch (M. botryoides) - up to 25 cm high. From April to June, the flowering period lasts, characterized by the appearance of bright blue inflorescences with spherical flowers. A garden form with white flowers is displayed.
Muscari crested (M. comosum) height of 25-30 cm when flowering forms a brush of purple upper flowers and greenish lower. The bulbs are edible.
Muscari azure (M. azureum) is a species with lanceolate leaves and bright blue flowers with dark stripes that appear in spring. The garden form 'Belaya' has pure white flowers.
Cultivation
Muscari is grown both in the open ground, and in pots and flower beds. Usually, the plant is used for decorating curbs, flowerbeds and on rocky hills. Bulbs are planted in early autumn in a well-lit place in drained, loose soil of moderate fertility, observing a distance of 5-6 cm between the bulbs.
Most types and varieties are suitable for distillation. To do this, in August, large healthy bulbs are selected and kept at a temperature of 18-20 °C. Later, they are planted in pots or boxes in a mixture of peat and sand, watered and stored for 2.5-3 months, first at 8 °C, and then at 3-5 °C. Finally, they are moved to the light, and flowering occurs in 1-2 weeks.
Watering
When growing in a pot or bowl, you should always keep the soil moist, but do not fill it, as this is fraught with yellowing of the leaves.
Reproduction
Propagated by seeds and daughter bulbs. When propagated by seeds, flowering occurs in the 3rd year, after the bulbs reach a certain size. Planting and sowing of seeds is usually carried out in the fall.
Location
To get abundant flowering - muscari is grown in the open sun.
Temperature
Muscari do not suffer from the cold in winter. The optimal air temperature for growth and development is 14-18 °C.
Diseases and pests
When stored on bulbs, mold sometimes forms-the result of the vital activity of fungi of the genus Penicillium. Bulbs should be cleaned from it and kept in a drier room in the future. If the soil for growing is water-and air-tight, heavy in composition, then the bulbs can rot. Loosening and appropriate drainage are necessary.
Acquisition
Bulbs are bought in flower shops and gardening centers. They should be healthy and not too small.
Trade offers and prices
from 126 ₽ to 344 ₽

В наличии

, available in 6 cities

Leroy Merlin, Indoor plants

from 90 ₽ to 98 ₽

Мускари Лазурный 5/plus, 10 шт.

В наличии

, available in 2 cities

Leroy Merlin, Garden plants

7,950 ₽

Монобукет из мускари "Весенний луг"

В наличии

, available in 1 country

AMF, Bouquets
Care summary
Requirements and characteristics of the Muscari plant that you need to remember.
| | |
| --- | --- |
| Cultivation | simple |
| Watering | in the pot, the soil is constantly moistened |
| Transplanting | not performed |
| Appearance maintenance | remove inflorescences after flowering |
| Location | open sun |
| Temperature | the plant is resistant to low temperatures |
| Flowering time | in spring |
| Height | 15 to 40 cm |
Photos of varieties and species
Literature
List of sources, entry in the process of writing this article.
Muscari //

Great Soviet Encyclopedia

. — M.: Soviet Encyclopedia, 1969-1978. — 630000 copies.
Ilyina E. Ya., Sterligova E. I.

Indoor plants and their use in the interior

. — Sverdlovsk: Ural University, 1991 — 208 s — 130000 copies. — ISBN

9785752502118

Turdiev S. Yu., Vecherko L. I.

Flowers in our life

. — Alma-Ata: Kainar, 1986. — 217 s — 50000 copies.
Chub V. V., Lezina K. D.

Complete encyclopedia of indoor plants

. — M.: Eksmo, 2003. — 416 s — 7000 copies. — ISBN

9785040060771

.
Muscari //

Indoor and garden plants

. — M.: Premiere, 2005. — 1274 s — 300,000 copies. — ISSN

1729-1828

.
Golovkin B. N.

What do plant names say

. — M.: Kolos, 1992. — 192 s — 70000 copies. — ISBN

9785100025054

.
Golovkin B. N.

1000 amazing facts from the life of plants

. — M.: AST; Astrel, 2001. — 224 s — 10000 copies. — ISBN

9785170105342

, ISBN

9785271030529

.