Description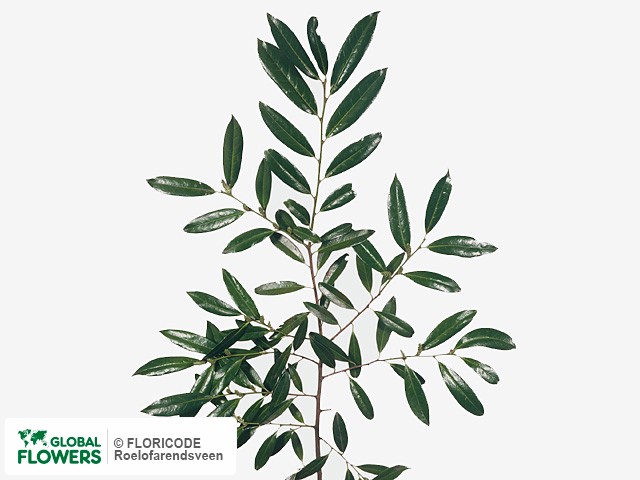 Latin name:

Prunus laurocerasus

.

Family:

Rosaceae.

Homeland:

Europe, Asia.

Alternative names:

Common laurel

,

Cherry laurel

.
The huge genus Prunus (Prunus) has more than 400 species and includes a wide variety of plants, including laurel (Prunus laurocerasus) - an evergreen plant, especially suitable for high hedges and forest protection strips. Prunus laurocerasus is a poisonous plant, except for the edible pulp of the fruit. The seeds contain prussic acid. In its wild form, it is a tall shrub or small tree with a height of 2-6 m, with large hard leathery, glossy, dark green, smooth-edged, oblong or obovate leaves. Small white flowers are collected in dense apical clusters. brushes 5-12 cm long, appear in May. Fruits-poisonous spherical, purple, after ripening black drupes with a diameter of 8 mm. There are many varieties and varieties, among them 'Caucasian', with large elongated green leaves of intense color and 'Round-leaved' - with oval glossy light green leaves. Usually, not a wild form is cultivated, but varieties that differ from each other in general appearance, height, and leaf size. Especially suitable for growing in containers are plants of the Shipkensis varieties - erect, unpretentious, with narrow leaves, profusely blooming and 'Otto Luiken' - very common, especially stable, dense and compact, with small, very shiny leaves and lush flowering.
Prunus lusitanica - a large shrub, if in a single planting-even a tree. It has a slower growth rate compared to Prunus laurocerasus medicinal. It has egg-shaped pointed leaves with red petioles. The flowers bloom in June. The fruits are small, red, and blackish-purple when ripe.
Cultivation
Lavrovishnya is grown in the open ground or in containers on balconies and terraces. Plants tolerate pruning well, so they can be given any special shape during cultivation. They are planted on a permanent planting site in October or spring, in moist, dense ground. Portuguese Prunus laurocerasus prefers deep and fresh, well-drained and lime-free soil, and medicinal Prunus laurocerasus can grow even in slightly alkaline soil, calcareous and less deep. During planting, organic fertilizers are applied at the rate of 5-7 kg/m2. When growing in containers, use a substrate that consists of peat and fertile land in equal parts. Since it is difficult to transplant bushes into a new pot, it is better to remove the surface layer of earth and add a new one. In the first 2 years of growing in spring and summer, once every 20-30 days, a complex fertilizer is added to the water for irrigation as a top dressing - 30 g per bucket. Pruning is carried out at the end of winter. Hedges are also pruned in August to maintain a neat and tidy appearance.
Watering
Water only young plants immediately after planting in the ground and during periods of prolonged drought.
Reproduction
Bay leaves are easily propagated by seed, although cuttings are usually used (primarily to preserve the properties of varieties). In August-September, cuttings 10-15 cm long are cut and planted in peat and sand soil (1:1) in a closed, unheated room. After the roots are formed, the seedlings are placed in pots one at a time, in the ground recommended for cultivation, and then transplanted into a new pot if the roots no longer fit in the container. After 1-2 years, they are finally planted in the ground.
Location
Lavrovishnya can be planted both in the open sun and in the shade.
Temperature
These plants are resistant to fluctuations in air temperature.
Diseases and pests
Powdery mildew of grapes (oidium) is manifested in the form of powdery spots appearing on the leaves. It is easy to get rid of it by treating it with preparations based on sulfur, karathane or other fungicides. An excess of nitrogen fertilizers in late summer and autumn reduces the cold resistance of the plant, especially in the young vegetative part.
Acquisition
Laurel trees are easily found in specialized nurseries and gardening centers. Due to the extremely fast growth, it is recommended to purchase small seedlings, they are easier to plant completely in the ground. Make sure that the foliage is in a healthy state and that there are no spots that indicate oidium or other diseases.
Care summary
| | |
| --- | --- |
| Cultivation | simple |
| Watering | necessary for young plants and during periods of drought |
| Transplanting | not transplanted |
| Appearance maintenance | not required |
| Location | in the open sun or partial shade |
| Temperature | resistant to both low and high temperatures |
| Flowering time | in April or June, depending on the species |
| Height | P. laurocerasus up to 6-7 m, P. lusitanica up to 15 m |
Literature
Prunus laurocerasus //

Great Soviet Encyclopedia

. — M.: Soviet Encyclopedia, 1969-1978. — 630000 copies.
Ilyina E. Ya., Sterligova E. I.

Indoor plants and their use in the interior

. — Sverdlovsk: Ural University, 1991 — 208 s — 130000 copies. — ISBN

9785752502118

Turdiev S. Yu., Vecherko L. I.

Flowers in our life

. — Alma-Ata: Kainar, 1986. — 217 s — 50000 copies.
Chub V. V., Lezina K. D.

Complete encyclopedia of indoor plants

. — M.: Eksmo, 2003. — 416 s — 7000 copies. — ISBN

9785040060771

.
Prunus laurocerasus //

Indoor and garden plants

. — M.: Premiere, 2005. — 1274 s — 300,000 copies. — ISSN

1729-1828

.
Golovkin B. N.

What do plant names say

. — M.: Kolos, 1992. — 192 s — 70000 copies. — ISBN

9785100025054

.
Golovkin B. N.

1000 amazing facts from the life of plants

. — M.: AST; Astrel, 2001. — 224 s — 10000 copies. — ISBN

9785170105342

, ISBN

9785271030529

.