Description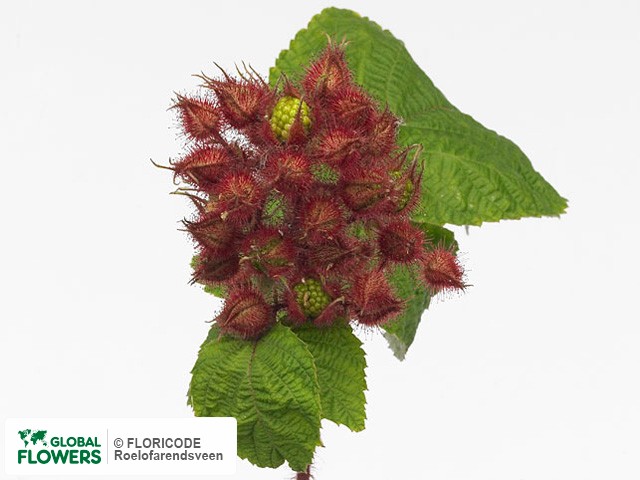 Family:

Rosaceae.

Homeland:

Europe.
Common, forest, or red raspberry (Rubus idaeus) is a member of the extensive Raspberry genus (Rubus), which includes more than 200 species. Deciduous rhizomatous semi-shrub with herbaceous annual vegetative and lignified biennial generative shoots that die off after fruiting. In height, the plant reaches 2.5 m. The leaves are trifoliate or pinnate, consisting of 3-7 pointed leaflets with a serrated edge, light green on the upper side and ash-gray on the lower side. Pale pink or white small flowers are collected in a brush or scutellum. The fruit is a juicy complex drupe, easily separated when ripe from the color of young, red, pinkish, purple, cream colors. Only a few varieties of "berries" are yellow, and the "Early Cumberland" - black.
Raspberry vulgaris gave rise to many modern cultivated varieties, which are divided into 2 groups. Summer fruits are produced only once in July-August, and the main remontant fruits are produced in June-July and September. Of the summer ones, 'Maling Exploit', 'Maling Jewel', 'Maling Promise' are well known; but the repair group includes: 'Lloyd George', 'Miracle of the Four Seasons', 'Romy', 'September', 'Zeva'.
Cultivation
Raspberries are grown in an open grant as a fruit shrub. It is planted on the site in autumn, in loose, fairly moist soil, with pre-applied organic fertilizers (7-8 kg/m2); carbonate, slightly alkaline and dry soils raspberry does not tolerate. The distance between plants depends on the type of planting: individual bushes-1.5 m; with a ribbon (branches are tied to two or three parallel pieces of iron wire stretched at different heights) - 50 cm. In spring, a complex mineral fertilizer is applied at the rate of 30-40 g/m2. At the end of the first year of cultivation, the strongest stems are left, the rest are cut out. When pruning remontant varieties, it should be remembered that the crop harvested in the fall is better in quality, so they should be pruned in the summer, which will increase the number of berries in the fall. If you cut all the branches in February, you will get fruit only in the fall.
Raspberry fruits are consumed both in fresh and processed form. In addition, raspberries are a good honeybee.
Watering
Since raspberries prefer moderately moist soil, they are often watered in the summer, and especially during the dry season. To preserve moisture, the ground is mulched with straw, peat and other materials.
Reproduction
It is propagated by abundant root offspring, which are separated from the parent plant and planted in groups to a depth of approximately 30 cm.
Location
Raspberries are planted both in the open sun and in partial shade.
Temperature
This plant is resistant to fluctuations in air temperature.
Diseases and pests
On alkaline soils, raspberries develop chlorosis (the leaves begin to turn yellow, then dry and fall off). In such cases, the planting is treated with iron chelates. The main pests of raspberries are raspberry beetle, raspberry-strawberry weevil, raspberry fly; young shoots and leaves are often affected by aphids. They get rid of them with the help of appropriate chemicals. The fungus Didymelia applanata causes drying of branches. In early summer, purple spots appear on the stems, which then dry out, which leads to the death of the plant. Preventive treatments with copper-containing preparations are useful. Rusty the fungus (Phragmidium rubi) appears as yellow-orange spots, and in late summer, black specks are also formed on the leaves. They get rid of it with the help of copper-containing drugs or dithiocarbamates. Common raspberry diseases: anthraciosis, rust, gray rot, cancer. They get rid of it with the help of drugs against gray rot. Especially dangerous are viral diseases that manifest themselves as uneven deforming spots on leaves in slow growth. Affected plants are removed.
Additional information
Raspberries in cooking
Raspberries are harvested only when they are fully ripe, that is, they are easily removed from the bush. It is not easy to keep it fresh. The only possible method is deep freezing.
Raspberry fruits are consumed immediately or used for making marmalades, syrups, etc. For example, for making marmalade, raspberries are rubbed through a sieve, and for making syrup, the mass of seeds remaining in the sieve is used after boiling them in water with sugar.
Care summary
| | |
| --- | --- |
| Cultivation | simple |
| Watering | frequent |
| Transplanting | not performed |
| Appearance maintenance | not required |
| Location | in the open sun or partial shade |
| Temperature | resistant to both low and high temperatures |
| Flowering time | depending on the species |
| Height | 1.0-2.5 m |
Literature
Rubus //

Great Soviet Encyclopedia

. — M.: Soviet Encyclopedia, 1969-1978. — 630000 copies.
Ilyina E. Ya., Sterligova E. I.

Indoor plants and their use in the interior

. — Sverdlovsk: Ural University, 1991 — 208 s — 130000 copies. — ISBN

9785752502118

Turdiev S. Yu., Vecherko L. I.

Flowers in our life

. — Alma-Ata: Kainar, 1986. — 217 s — 50000 copies.
Chub V. V., Lezina K. D.

Complete encyclopedia of indoor plants

. — M.: Eksmo, 2003. — 416 s — 7000 copies. — ISBN

9785040060771

.
Rubus //

Indoor and garden plants

. — M.: Premiere, 2005. — 1274 s — 300,000 copies. — ISSN

1729-1828

.
Golovkin B. N.

What do plant names say

. — M.: Kolos, 1992. — 192 s — 70000 copies. — ISBN

9785100025054

.
Golovkin B. N.

1000 amazing facts from the life of plants

. — M.: AST; Astrel, 2001. — 224 s — 10000 copies. — ISBN

9785170105342

, ISBN

9785271030529

.